Kamaszos, érettségi bankettes, szülők mesterkedéseis.
Kayla, Julie és Sam együtt kezdték az iskolát, és egészen a középiskola végéig legjobb barátnők is maradtak. A gyerekeiket túlféltő szülők is barátok lettek, akik próbálnak megbirkózni azzal, hogy a lányok kirepülnek. Főleg Lisa van oda, akinek csak Julie van. Így amikor egy nyitva maradt laptop betekintést enged a lányok levelezésébe, hamar ki is készülnek. Éppen elengedték a lányaikat a barátaikkal a bankettre, és máris azt olvassák, hogy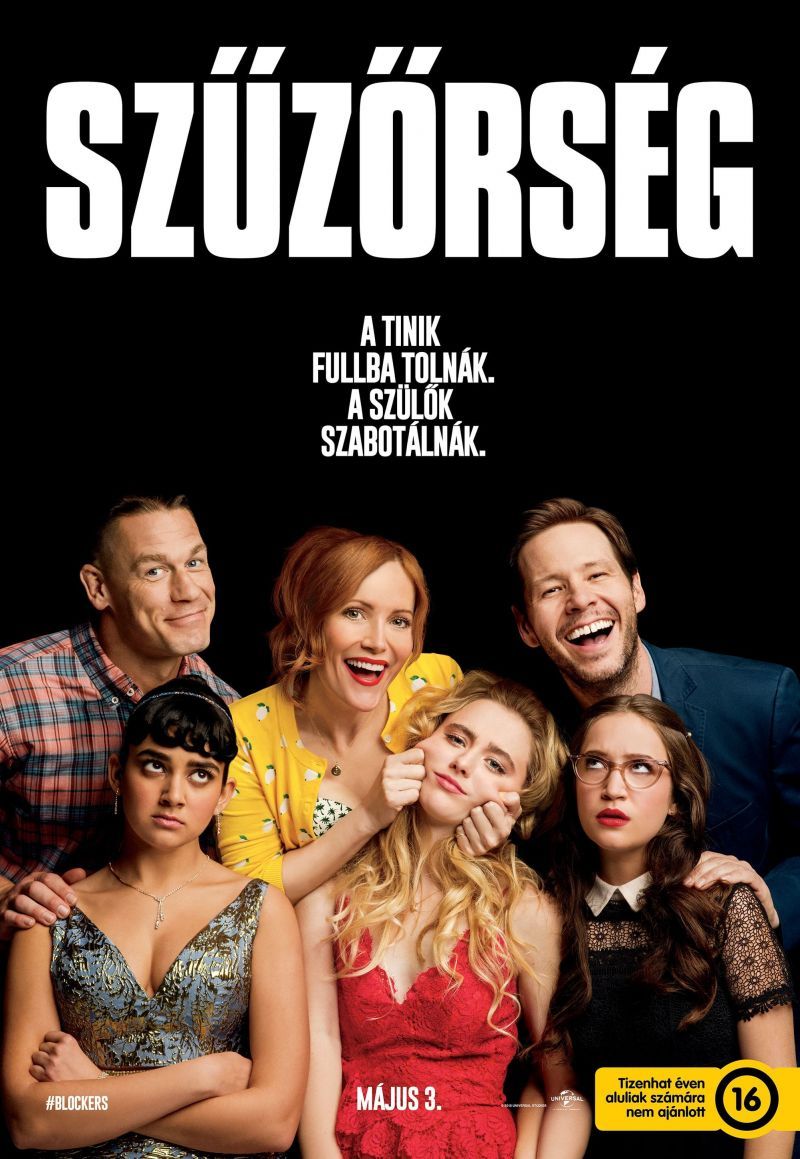 egyezséget kötöttek, hogy ezen az estén mindhárman elvesztik a szüzességük. Ugyan Hunter igyekszik csitítani a szülőtársakat, de Lisa és Mitchell annyira bepörögnek, hogy máris a szabotázst tervezik. A hármas elindul a kölykök után a buliba, és az este őrületei között kénytelenek elgondolkozni azon, hogy a gyerekeik kirepülnek, felnőttek.
Az ifjúsági filmek között gyakran előkerül a szüzesség elvesztésének kérdésköre. Az már más tészta, melyik mennyire komolyan, viccesen, vagy éppen undorítóan nyúl a témához – még egy olyan is van, amiben a filmes lánya egy élő pornó showban akar túlesni az eseményen a barátjával. A Szűzőrség is ezzel a témával játszik el.
Annyi a csavar, hogy nem tini film – ez egy komédia. És nem a szüzességüket veszteni akaró tinik a főszereplők, hanem a szüleik. Ezzel még akár új dimenziót is adhattak volna a zsánernek, de nem lesz klasszikus e filmből. Egyszer meg lehetett nézni, de szerintem többször éreztem kínosnak, mint viccesnek.
Mert a poénok jó fele, talán több is, altesti és szexuális poénokra épül. Nem is tudom, melyik volt a legrosszabb. Bocs, mégis tudom. A sör a végbélen keresztül, majd annak kispriccelése feszült helyzetekben. De díjnyertes lenne a nimfomán páros is, akik egészen szabadosan értelmezik a fogócskát, amibe a főszereplő szülők is belekeverednek, nem éppen örömükre.
Néha azonban akad egy jó pillanata. Nekem a Halálos iramban poénok ültek legjobban, de ki-ki találhat benne valamit, amin ha nem is tud felhőtlenül nevetni, azért mosolyogni lehet rajta.
A kötelező mondandót is kipipálja, ha erőltetetten is. A szülő – gyerek kapcsolat erősödik, büszkék egymásra, és mindenki kész megtenni a következő lépést. A kölykök mennek egyetemre, és a szüleik képesek elengedni őket. (Aki mégsem, az mehet a partiállatba, de arról a filmről majd később mesélek. Itt megvalósul az elengedés.)
Külsőségeiben az a színes, könnyed komédia, amit pár helyszínen, középosztálybeli miliőben gyorsan összeraktak. Azért a külsőség rovatba belenyomom azt is, hogy itt is jól látni, mennyire beindult az álomgyárba a girl power üzenete. Itt is kapunk egy nagy monológot a témában, ami különben tök jó, fontos is, de a vígjátéki közegben azért furán hat. Plusz, a vegyes párok dömpingje is nagyon erős. A 3 filmbeli szerelmespárból 2 is vegyes etnikumú.
A színészek – láttak már szebb napokat is. Nem is értem, minek vállalnak be egy ilyen filmet. Főleg John Cena, aki tényleg olyan rendőr alkat, mint amit itt a kamaszok a fejéhez vágnak – az a poén se volt rossz. De Leslie Mann is ott van a főszereplők között, és ő is volt már sokkal jobb. Itt olyan ripacskodónak kellett lenni mindenkinek, ami nem tetszett. Plusz, Austin, Julie barátja az a Graham Phillips, aki nekem már mindig Zach marad, The Good Wife sorozatból.
Egyszer belefért, de ez nem az én komédiám. Érik, hogy óriás cápára induljak…
Szűzőrség - 5/3 felemás. Van benne pár jó ötlet, de sokszor inkább fárasztó, és nem szórakoztató.