Stand upos, kosztümös, családos, női.
Miriam Maisel pont azt az életet éli, amire a szülei nevelték. Férjhez ment egy jól szituált zsidó fiatalemberhez, akinek szült két gyereket is. Részt vesz Joel hobbijában, rendszeresen jár vele fellépésekre, és segíti, hogy minél jobb komikussá válhasson a férfi. Mindemellett megőrizte lányos vonalait is. Így derült égből villámcsapásként éri, amikor Joel elhagyja a titkárnőjéért. Midge kénytelen visszaköltözni a szüleihez, akik fel nem foghatják, hogy fajulhatott eddig a helyzet, és igyekeznek összebékíteni a házasokat. Midge a visszanyert szabadságával lassan felfedezi, mi minden vár még rá. Első dühét kiéli egy stand up fellépésen – tehetséges, lesz egy menedzsere, és titkon indulhat a karrierépítés. Állást vállal egy üzletházban, önállósodik. Kell még Joel egyáltalán, ha vissza akarna jönni?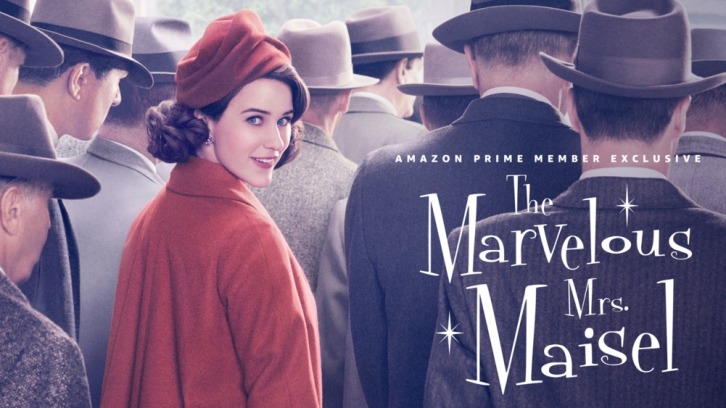 A minőségre akad pár bizonyíték annak, aki még nem ismerkedett meg a bűbájos mrs. Maisel világával. Elsőként, kiemelném, hogy Amy Sherman-Palladino sorozata, aki sokunk szívébe belopta a Gilmore lányokat. Én a Bunheads című sorozatának is rajongója voltam – de az nem ütött akkorát, mint Midge kalandjai. Az idei Globe-on nagyon ment a sorozat, ez lett a legjobb komédia és a főszereplőnő is begyűjtötte a szobrot. Jók a kritikái, sokan szeretik és nézik.
Nem véletlen mindez. Ami Sherman-Palladino védjegye, ebben is benne van. Nagyon tud nőkről mesélni és beszéltetni is őket. Az egész sorozatnak van egy szinte megfoghatatlan bája és kedvessége. Jó nézni, feelgood, pedig sok minden nem az a cselekményben. Eleve, hogy tud feelgood lenni egy sorozat, amiben ott az elhagyott nő értetlensége és fájdalma? Itt simán összejön. Igen, a szereplőknek is vannak nehézségeik az életükben, de leküzdik őket. Szenvednek, gyászolnak, de mindig mennek tovább. Jó emberek, szerethetőek, maguk a karakterek is bájosak. Nekem nagyon nézeti a sorozatot a pozitív életszemlélete és az, hogy együtt tudok örülni a szereplőkkel.
Rengeteget beszélnek a sorozatban, ahogy azt megszokhattuk. A Gilmore lányok szája se állt be soha, és itt sem fog a hősnőnek. De tartalma van annak, amiket és akiknek mondja. Talán ez is a sorozat bájának a része? Iszonyatosan sok kommunikáció van ránk zúdítva, de ezek frappáns párbeszédek vagy monológok. Kinyitják a szereplőket.
Nagyon nem akarom erőltetni a témát, de a #metoo témát is simán rá lehet nyomni. Egy nő, aki boldogulni akar egy férfiak uralta területen. Egy tehetséges, szép nő, aki megcsinálja. Midge eljut addig a sorozatban, hogy előrébb helyezi magát, mint a házasságát vagy a férjét. Érdekel is, hogy mennyire tudja ezt majd tartani a 2. évadban.
Szerethető a sorozat azért is, mert messze nem hibátlan, de nagyon szerethető figurákat mozgat. Midge remek komika, kötelességtudó, de például borzalmas anya. Joel helyenként egy kivert kiskutyát juttat eszembe és tudom sajnálni, noha ő az, akinek a házasságtörése beindítja az eseményeket. Midge anyja, aki nagyon perfekcionista, és titokban jósoltatni jár?
Kicsit kosztümös is a sorozat, az 50-es években játszódik. A jelmezekben ettől jön egy plusz a sorozatba – imádom Midge egy-egy ruháját – és az egész korhangulat is hozzátesz egy lapáttal. Modern, miközben egy nosztalgia is van benne a múlt felé.
Zárásul, szuperek a színészei. Brosnahan berobbant, a mellékszereplők előtt is le a kalappal.
The Marvelous Mrs. Maisel - 5/4 tündéri és vidám. Bár van drámai vonala is, szívmelengető. Jó színészek, érdekes sztori.