Felfedezők közti viszályos, kosztümös, árháborús.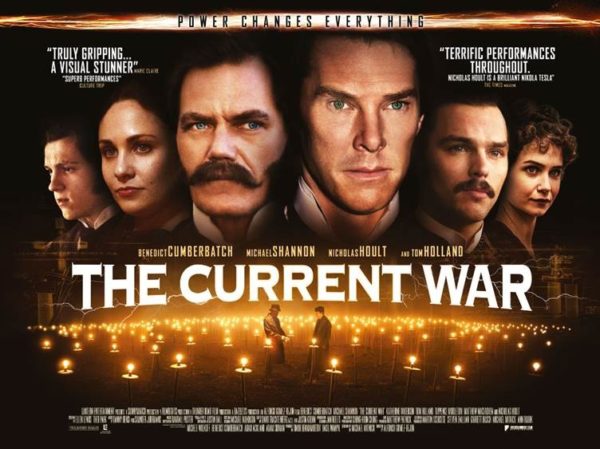 A gyertyák kora lejárt, a világítás jövője az elektromosság. Két felfedező és üzletember is azon van, hogy az ő neve határozza meg a korszakot. Edison, aki az egyenáram híve és az izzószálas villanykörték feltalálója. Westinghouse, aki Edison fejlesztéseit befogva egy olcsóbb és hatékonyabb rendszert talált ki az energiaellátásra. Harcolnak a befektetőkért és megrendelésekért, miközben Edison egy új alkalmazottat vesz fel, akinek forradalmi ötletei vannak. Tesla azonban nem kapja meg az elismerést itt, és saját vállalatot hoz létre. Ő is beszáll az energia háborúba, de se hírneve, se tőkéje. Hamarosan kénytelen a találmányát értékesíteni,, Westinghouse lát benne fantáziát. Miközben Edison elveszti a feleségét, igyekszik bizonyítani, állatkísérletekkel is, hogy az ő módszere a jobb.
Újabb filmet írok fel a csalódásaim listájára. Eddig nem értettem, miért tűnt el ez a film ennyire. Ok, volt egy botrány is a forgalmazó körül, de ahhoz képest is túl nagy volt a csend a film körül. Már értem miért: gyenge annyira, hogy senki sem akarta mutogatni.
Papíron tökéletes lenne, sajnos nem váltja be a szép reményeket.
A történet: a történelem és tudományos fejlődéstörténet egy izgalmas időszaka. A villamosság feltalálása, annak elterjedése és a világ megváltozása. Több zseniális elme is dolgozott ekkor, és versengtek egymással. Izgalmasan hangzik, de nem tudták jól megírni. Az egész film unalmas. Nincsenek ötletes betétek a feltalálásról. Ahogy belegondolok, két eszköz megjelenését mutatja meg a film. Tesla motorja az itt látottak szerint kipattan a fejéből. Semmi kísérletezés, izgalom – egyből ott a terv, amiről magabiztosan állítja, ha megépíti, működni is fog és hatékony lesz. A másik a villamosszéké és a vele való kivégzésé. Nem is tudtam eldönteni, hogy ezt humorra akarták venni, vagy csak ennyire kisiklott a film hangulata. Vicces helyett inkább fájdalmas volt, ahogy a lovas kísérletet az első kivégzésig vezetett – roppantul sajnáltam. A lovat.
A magánéleti szálak sem jártak jobban. Elkapkodva, csak vázlatosan mutattak belőle valamit. Edison nejének halálát látjuk, de hogy utána mi történt a férfi családjában, mi lett pl. a gyerekekkel, azt homály fedi.
A karakterek: nagy egyéniségek harca is volt ez. Westinghouse, Edison is nagyon el tudta magát adni. Itt ebből keveset látunk, noha olyan színészek játsszák őket, mint Benedict Cumberbatch és Michael Shannon. Nem is nekik rovom fel, a film volt annyira gyengén megírva, hogy nem maradt nekik tér játszani és érdekessé tenni a karakterük. Nyomorul Tesla járt különben a legrosszabbul, Nicholas Hoult esélyt sem kapott kibontani a figurát.
Bajom volt a kamerázással is. Külsőségeiben hiteles és szép a film, a kosztümök és a környezet korhű. De ahogy rángatják a kamerát, közben idegesítően ugrott a színészek arcába vagy váltott hirtelen pozíciót… fizikailag fájt a szememmel követni.
Ami viszont maradéktalanul tetszett: a film zenéje. Sok klasszikust használ. Vivaldi a legkönnyebben felismerhető és élvezhető.
Vártam ezt a filmet, de kevés jó dolgot tudok mondani róla. Jók a színészei, szerettem a zenéjét, de ezen túl… csalódás.
The Currant War - 5/2,5 tetszett a korstílus és bírom a vezető színészeket benne. De ezt leszámítva csalódás.