Kamaszos, pszichés gondokkal küzdő, szerelmes.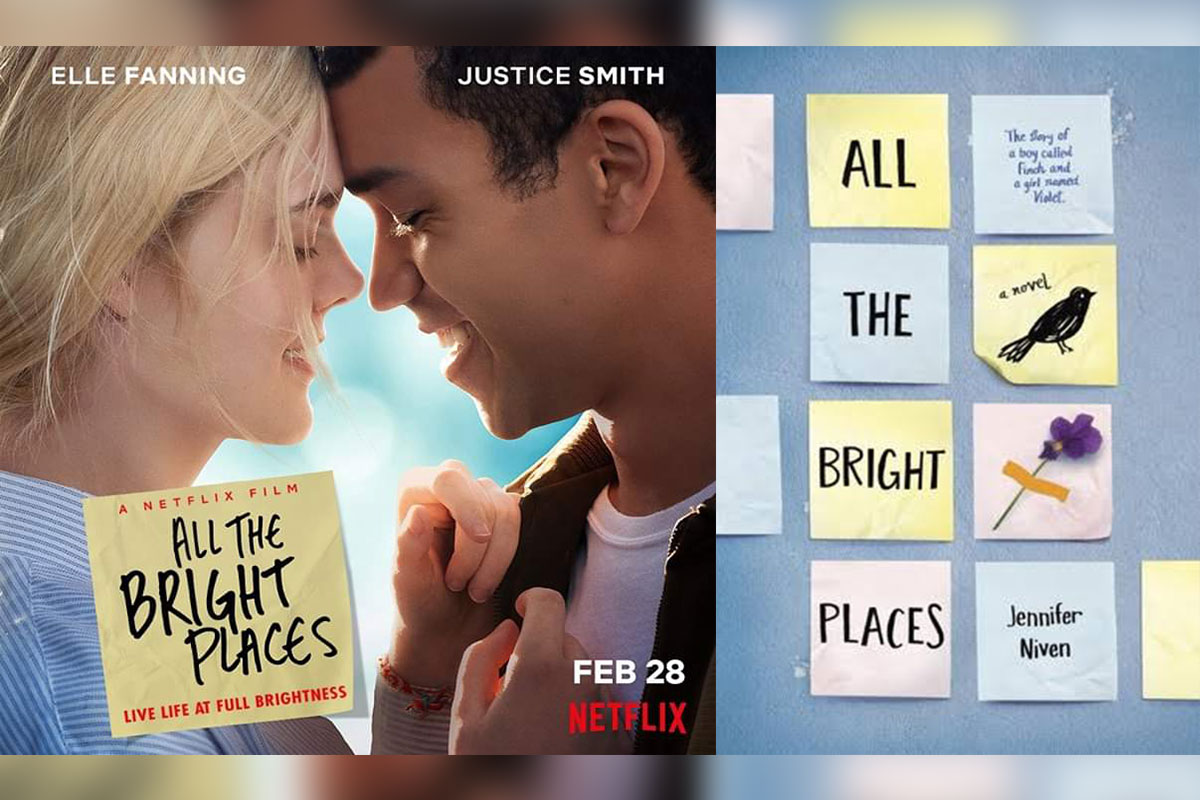 Violet nem találja a helyét a nővére halála óta. Bezárkózott, az egykori barátok és a családja sem tud rajta segíteni. A nővére születésnapján feláll a hídra, ahol a lány meghalt. Osztálytársa, a különc Finch arra jár, szóval tartja és lecsalja a hídról. A fiú már figyel a lányra, és amikor olyan beadandót kapnak, melyhez helyi nevezetességeket kell megnézni, kéri, hogy Violet lehessen a párja. A lány eleinte ellenkezik, de aztán elkezdik megnézni a Finch válogatta különös helyeket: egy feneketlennek tartott tavat, egy házi készítésű hullámvasutat. A fiatalok egymásba szeretnek, és a lány egyre jobban van. Későn veszi észre, hogy kettejük közül Finch volt az, aki komoly lelki gondokkal küszködik, és megmentésre szorul. De mit tehet érte ő, még ha szereti is?
A Netflix nagyon belelendült az ifjúsági regények filmesítésébe. Itt van még egy, ami olyan regényből készült, amit nálunk a Maxim adott ki. A Veled minden hely ragyogó. Jennifer Niven regényét olvastam is, és most is ugyanaz a kérdés ragadt meg a fejemben, mint a regény után.
Nincs válasz a miért kérdésre. A film végén Finch hoz egy döntést. Megcsinál valamit, amit nem tudok se érzelmileg, se értelmileg feldolgozni. Ő elvileg megtalálta a ragyogó helyét. Volt egy lány, aki szerette és aki kész volt kiállni mellette, bármi is jön. Volt mentora, volt egy szerető testvére és voltak barátai. Igen, közben jöttek rossz gondolatok, voltak visszaesései, de miért kellett eddig elmennie? Bár lehet, az a jó, hogy ezt nem tudom felfogni. A film címében ugyan a ragyogó helyek vannak, amiket Violet is megtanul észrevenni, de Finch a sötét helyről nem tudott szabadulni. Csak egy módszerrel.
Mennyire jó, hogy így van vége a filmnek? Fele-fele. Egyrészt, attól jobbnak érzem, hogy ez nem egy tucat románc, amiben a szerelem mindent megold. Messze nem tud mindent megoldani, és egyes problémákhoz köze sincsen. Violet, akinek nem voltak olyan komoly gondjai, felépülhetett a szerelemnek hála. Finch, aki sokkal komolyabb sebeket hordozott, nem. Ez valahol törvényszerű és reális, ha nem is boldog tőle a film vége.
Ugyanakkor nincs eléggé aláhúzva a filmen, hogy ez nem megoldás. Szinte pozitív a befejezés így Finch számára, pedig ennek nem szabadna annak lennie. Jobban fájnia kellene, el kellene ítélni, hogy ezt tette. Nem éreztem, hogy így lenne.
De vissza a film egészére! Tipikus tini románcnak indul, amelyben egy valószínűtlen páros összejön és boldogok tudnak lenni. A csavar az, hogy menet közben kiderül, nem Violet, akit meg kell menteni. Hatalmas csavart hoznak be a film felénél, és nem kapjuk meg a lényeges kérdéseket és válaszokat sem. Miért lett ilyen Finch? Pontosan mivel küszködik? Mi a megoldás? Azt látod, hogy baj van, de rég ez van. Miért nem próbáltak komolyabban segíteni neki? Violet túl hirtelen csöppen bele, és éli meg a váltást a fiú két énje között, de nem egyszer utalnak rá, hogy vannak ilyen periódusok. De ez nem normális. Miért nem derítették ki, mi ez és hogyan lehetne segíteni?
Aranyos kezdet után komolyodó dráma, de túl sok kérdés maradt bennem, hogy drámának értékelni tudjam.
Netflix szinten hozták ki korrektre a külcsínt, és válogattak szereplőket. Elle Fanning annyira kislányosan néz ki még most is, hogy gond nélkül el lehet neki hinni a tinit. Ezt a karaktert játssza évek óta, rutinosan megy neki. Justice Smith neve is egyre jobban jegyzett. Azt nem a színésznek rovom fel, hogy nem volt átérezhetően megírva, nem volt megérthető, miért süllyed ez a fiú oda, ahova eljut a végére.
Egyszer nézhető, nagyjából a regényt is visszaadta. Ugyanaz a gondom mindkettőben.
All the Bright Places – 5/3,5 a románc átjött, a drámába váltás hirtelen volt. De nézhető, szerethető darab lett.