Tárgyalás részleteit felfedő, igazságot kereső, bűnügyi.
Két férfi egy pincében, megkötözve tér magához. Nem ismerik egymást, sem az elrablójukat. Nem tudják, miért vannak itt és mit akarnak tőlük. Az elrablójuk egy fiatalember, aki kamerákat szerelt mindenfelé, és neten sugározza is a felvételt. Hogy bizonyítsa, bármire kész, élő adásban megöli a fiatalabb férfit. Az idősebb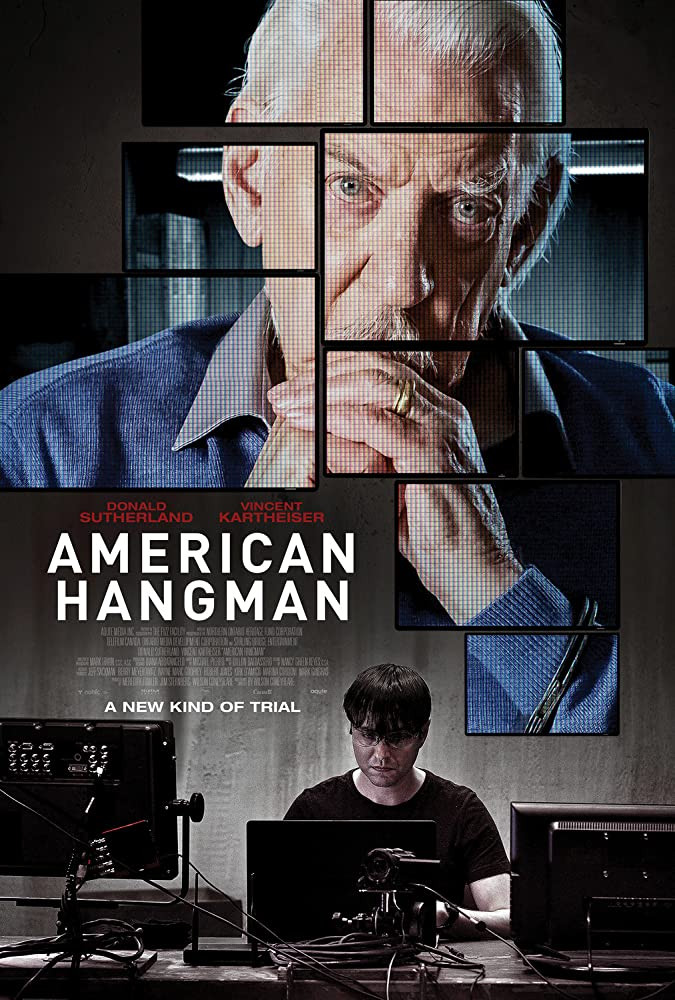 fogvatartott bíró volt, és az elrablója most az ő tárgyalását akarja megrendezni. Biztos benne, hogy Straight bíró aktívan hozzájárult ahhoz, hogy a napokban kivégeztek egy hírhedt gyerekrablót és gyilkost. Ám a férfi szerint hibák voltak az eljárásban, és egy ártatlan embert végeztek ki. A nézőknek szavazni kell, hogy a bíró helyesen járt-e el, jó volt-e az eljárás, vagy neki van igaza, és nem a tettes lakolt halállal. Ez esetben ő fogja most, élő adásban kivégezni a bírót. A rendőrség egyszerre nyomoz a mostani emberrablás ügyében, és keresik a választ arra is, vajon igaza van-e a titokzatos férfinak, és komoly hibákat vétettek a nyomozás és tárgyalás során.
A regények kapcsán emlegettem a napokban, hogy nekem bejönnek azok a történetek, amikor két erős személyiség folytat párbajt – legyen az rendőr és bűnöző közti elme- vagy tényleges harc, vagy akár egy hajsza két ellenfél között.
Ezt a vonulatot tudtam értékelni ebben a filmben is. Adott két ember, akik egy kis térben összezárva, igyekeznek kiállni a maguk igazáért. A bíró a törvényt és annak módszertanát, azzal együtt magát is védené. A vádlója pedig az igazságot kéri számon tőle – mert ő pontosan tudja, hogy a rendszerrel baj van. A törvény nem jelenti az igazságot. Ezzel kell a film más szereplőinek is szembenézni, és feltenni maguknak a kérdést, hogy mit és miért szolgálnak. A rendőrök, akiknek eredményeket kell letenni az asztalra, és megnyugtatni a közvéleményt. Az újságíró, akinek a szenzáció kell. Az emberek, akik csak nyugodtan akarnak a biztonságos vackukban lenni, hogy helyreállt a rend. Fontos még valakinek az igazság, vagy meg kell elégedni a látszatokkal?
Mindkét fél érveket kap, és van abban igazság, amit mondanak. Így egy könnyed, thrilleres filmben olyan mondanivaló is belefért, ami mindenkinek elgondolkoztató lehet. A törvény és az igazság fogalmaival birkózni kell, és mindenki kialakíthatja a saját véleményét a témában. Mennyire akarunk és kell megalkudnunk? A társadalom nem is kis bírálatot kap innen. Nem csak az Államokban, szerintem mindenhol lehet gyötrődni azon, hogy a törvények mennyire igazságosak, és mennyire tud kiderülni az igazság bárhol is.
Igaz, a film extrém helyzetben mutatja be mindezt, de ezzel is célja van. Így válik hangsúlyosabbá a témája: egy szélsőséges helyzetben a visszásságok is jobban megjelennek.
Talán az volt kevés, ahogy mindenki szembesülni kezd a saját tetteinek súlyával. Egy rendőr volt, aki valóban felismerte, hogy a világ nem jó irányba halad, ő ezért is váltott karriert. Nem mondja ki nyíltan, de nála nagyon jól látható, hogy a látszatok, a szellemiség már fontosabb, mint a tények és a nyers igazság.
Igazság szerint a filmben látottak, a tényleges cselekmény annyira nem mozgalmas és izgalmas, hogy járjon érte a 4 pont. Van, akinek esélye sincs, az egész műsor nagyon jól meg van előre rendezve. Cole végig kézben tartja az eseményeket, és nem véletlenül akkor fedi fel az újabb és újabb titkokat, amikor. Így veszít a film az izgalmából, de ezt is be tudom annak tudni, hogy az üzenetet hangsúlyozzák.
Donald Sutherland szépen viszi előre a karakterét, ez leginkább az ő filmje. Bírom Vincent Kartheiser dolgait is, de itt eléggé settenkednie kell és árnyékban lennie a teljes filmben.
Lehet, hogy nekem azért is tetszett, mert ez az igazság és törvény téma leköt, de talán különben sem egy rossz film. A Fűrész poént külön is szerettem J
Amerikai hóhér - 5/4 jól kibontott cselekmény, Sutherland jól eltalált karakterével. A vége túlzás, de lekötött.