Tárgyalótermi, politikai, megtorlós.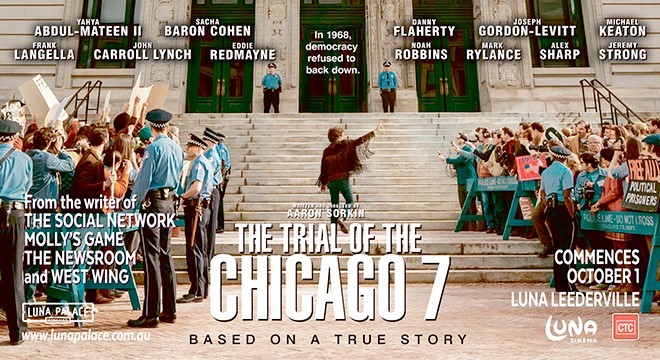 1969, nagyban mennek a tüntetések a vietnami háború ellen. Chicagoban egy olyan rendezvény lesz, melyre több tüntetőcsoport is elmegy, és már kezdetektől problémák vannak – nem jelölnek ki nekik területet, előre kirendelik még a katonaságot is. A konfliktus kirobban, és az elnökváltás után az Igazságügyi Minisztérium vádat emel a csoportok vezetői ellen. Nyolcan állnak bíróság elé zavargások keltése miatt. Egyesek reménykednek az igazságban, mások már a kezdetektől tudják, hogy ez politikai per, és teljesen mindegy, mit csinálnak, az ítélet készen van ellenük. A vádat az ügyész reménység Schultz viszi, a Chicago-i heteket Kunstler védi, míg a nyolcadik vádlott, aki színes és a bírónak kezdetektől ellenszenves, ügyvédje kórházba kerül és nem engedélyeznek számára másik ügyvédet. Érdekek csapnak össze, minden oldalról.
Ez is egy olyan film, amit nagyon tönkrevágott a vírushelyzet. Hallottam már olyan pletykákat, hogy simán esélyes 2021-ben komoly Oscar nevezésekre, már, ha lesz Oscar átadó jövőre. Moziba tervezték, minden tekintetben komoly mozis dráma, és bemutatni nem lehetett rendesen. Így eladták a Netflixnek, ami így egy nagyon minőségi filmmel gazdagíthatta a kínálatát. Nekik tuti megérte…
Nehéz bármibe is belekötni benne. A történetet úgy rakták össze, hogy egyszerre legyen szórakoztató és drámai, tanulsággal. Ugyan a hatvanas-hetvenes években játszódik, de a politikai üzenet ma is érvényes. A sajtószabadságról szól, és arról, hogy az embereknek joguk van kifejezni, ha nem értenek egyet a fejesek döntéseivel. Itt szó sem volt kezdetben erőszakról, békés tüntetés akartak, ahol a vezetőség láthatja, mennyien nem értenek azzal, ahogy az USA háborúba ment.
Közben benne van a kor hangulata, egy remek pillanatkép ruhákkal, ruhákkal, kocsikkal, hangulattal. Nem látványfilm, de a kor hangulatát több szinten, látványban is behozták.
De vissza oda, hogy van mondanivalója, de közben feszült és izgalmas tárgyalótermi film is. Az ügyvédek próbálkoznak, a csoporton belül is viták vannak, és ahogy a bíró az ügyet tárgyalja… feszült, de humoros is. Érezni, hogy a rendező színházi ember volt – egy térben, csupán szavakkal és gesztusokkal olyan hangulatot teremt, hogy vágni lehet a levegőt.
Sok szereplőt mozgat, de majdnem mindenkinek sikerül karaktert adnia. A megvádoltak közül kiemeli a jelentősebbeket, és ők ott vannak előtérben. Ahogy az ügyvédek, a bíró és az egyik tanú, akinek nem akarom a személyét lelőni, mert biztos vagyok benne, hogy nem én vagyok az egyetlen Netflix néző, aki most találkozott ezzel a perrel és történettel, így marad egy meglepő fordulat annak, aki még nem látta.
Ha már szereplők. Nekem gyengém, ha egy casting tele van jó színészekkel. Itt meg aztán lehet válogatni, kire kapkodja az ember a fejét. Több Oscar-díjas vagy jelölt, nem egy világsztár. Azzal az érzékkel válogatva, mintha rájuk lettek volna a szerepek, pedig az élet volt az alap. Magam is meglepem ezzel, de Sasha Baron Cohen lesz az első, akit ki fogok emelni. Bár elméletben értem a munkásságát, hogy használja a polgárpukkasztást egy különben nagyon intelligens férfi, nem szeretem a dolgait. (Kivétel a Sweeney Todd, de az Burton projekt, nem saját Cohen.) Itt egy olyan karaktert kapott, aki kivételesen művelt és intelligens, de egy bohócként adja el magát. A karakter mindkét arca profin megy neki. Eddie Redmayne az ellenpontja, a jól nevelt politikai aktivista, aki aztán kap egy olyan kiboruló jelenetet… Joseph Gordon-Levitt az élére vasalt ügyész. Mark Rylance a védőügyvéd, az intelligens és szimpatikus jó ember. De még sorolhatnám: Keaton, Langella…
Mozinak veszteség, Netflix nyereség. Nálam olyan film, amit látni kell.
The Trial of Chicago 7 - 5/4,5 hiteles, elgondolkoztató, feszült és remek színészekkel, alakításokkal van tele. Nézős!