Bandát alapító, szellemes, zenei karriert kezdő.
Julie Molina élete a zene volt. Az anyja is dalokkal foglalkozott, és a jó hangú lány tőle tanulta a zenélés alapjait,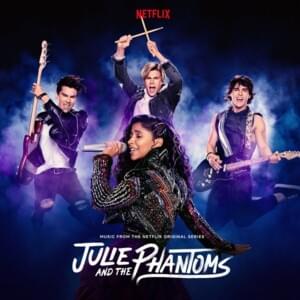 majd zenetagozatra is bejutott a középiskolában. Ám az édesanyja halála Julie zenéjét is elnémította. A helyzet akkor változik meg, amikor a lány a házukban három szellemmel fut össze. Luke, Alex és Reggie 25 éve haltak meg, ételmérgezésben, pont a nagy fellépésük előtt, ami elindíthatta volna a karrierjüket. A fiúk hatására kezd a lány megint zenélésbe, és hajlandó fellépni az iskola előtt, amikor a zene tagozatról ki akarják tenni. Mindenki döbbenetére, ahogy Julie zenélni kezd, és a fiúk csatlakoznak, mindenki más is látja és hallja őket. Így van esélyük megint megmutatni magukat – és egy kis hazugsággal, miszerint hologramok – és visszatérni a lánnyal a zeneiparba.
Nem eredeti ötlet alapján készült, bár ez akkor lenne érdekesebb, ha az eredeti brazil sorozathoz is hozzáférnénk. Így, hogy a Netflix ezt a verziót készítette és adta le, nekem ez fogja jelenteni a sorozatot. (Pláne, hogy semmi esélyt sem látok az eredeti sorozat bármilyen sugárzására felénk.)
A történetről nagyon nem akarok írni. Rövid is, alig pár 20-25 perces rész az egész évad és jobb szó híján butuska is. Már eleve az, hogy mindenki ilyen könnyen elhiszi, hogy a fiúk hologramok. (Jó, a szellembanda még hihetetlenebb lenne. Bár érdekelne, hogy kezelik majd, hogy felbukkannak olyan karakterek, akik 25 éve is ismerték a srácokat, és felismerik őket, tudják, hogy a romlott hot-dog hogyan végzett velük.) De a kis kalandok is: legyőzni a lámpalázat, és fellépni. Kiszökni egy fellépésre. Egy másik szellem, aki azt akarja, hogy az ő klubjában lépjenek fel. Ok, a Covington-szál még tetszett is, csak az volt kevés, amit ki tudtak belőle hozni ilyen rövidség mellett.
Mosolygós történet, ami szimpla poénokkal operál. Hogy Julie öccse megérzi, hogy szellemek vannak a házban és le akarja őket vadászni. Hogy a srácok hogyan szórakoznak, amikor rájönnek, hogyan tudnak megfogni dolgokat. A bosszú az egykori gitáros ellen, aki ellopta a dalaikat. Igazán soha nem nevettem rajta, de a kellemes hangulatát szerettem és kiskamaszként viccesebbnek is találtam volna.
Ami viszont annyira eladja, hogy 4,5 pontot adtam neki az 5-ből, a zenéje. Érezni, hogy valóban zenészekkel dolgoztak és jó hangja van a szereplőknek. Kellemesen popos az egész hangzásvilág, egy-egy mellékszereplővel más színeket is bele keverve. Carrie igénytelenebb tucat pop lánybandával, Covington néhol jazzesebb, néhol showműsorba hajló előadásai. Kicsit nézegettem a színészek életrajzát, és feltűnt, hogy még olyan szereplők is zenész múlttal rendelkeznek, mint Carlos Ponce, aki Julie apját játssza, noha a sorozat egy részében sem fakad dalra vagy zenél.
Mivel a női nemhez tartozom, a srácok jobban megfogtak, mint Julie – aki különben nagyon szerethető kamasz karakter, olyan konfliktusokkal és döntésekkel, amelyekbe a fiatalabb néző könnyeden beleélheti magát. Reyes szépen is énekli a dalait. Csak éppen van három srác, akiknél megadja az alaphangot, hogy 17 évesen, nagy karrier előtt állva ételmérgezésben meghaltak. Sajnáltam őket. A tehetség értelmetlen bukása nekem mindig fájó, itt is. Helyesek, tehetségesek, jól szólnak. Charlie Gilespie különösen szimpatikus.
Aztán, ott van Cheyenne Jackson is, egy izgalmas karakterrel, jó dalokkal és egy kis gonoszsággal benne, ami még érdekesebbé teszi a karakterét.
Színes, szórakoztató, kifejezetten életvidám darab jó dalokkal, amire rákaptam.
Gyorsan végignéztem, a dalokat többször is visszaugrattam. Lehet buta a sztori, de amíg ilyen a hangzás, én szeretni fogom.
Julie and the Phantoms - 5/4,5 talán gyerekes, és helyenként buta is a sztori, de a zene annyira jól eladja… szerettem.