Hatalmi harcos, ármányos, harcos, új területeket felfedező.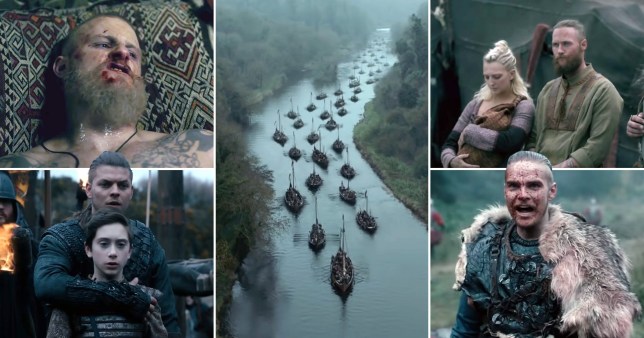 Björn felülkerekedett Ivar seregein, visszavette az örökségét és oldalán egy új feleséggel királlyá lett. Még nagyobb tervek is forognak a fejében: minden vikinget egyesíteni kell, egy zászló és egy király alatt. Nem sejtheti, hogy a szövetségesének gondolt Harald is mennyi mindenre kész most is a hatalomért. Pedig szükség van az összefogásra, hiszen Ivar nem az a természet, aki beletörődik a vereségbe. Utazásai során eljut a rusz területre, ahol unokaöccse nevében Oleg herceg uralkodik, aki számon tartja népük viking eredetét, és kész a kereszténységet fegyverrel elvinni északra, újra megígérve a trónt Ivarnak. Közben Lagertha a harcba belefáradva igyekszik új életet kezdeni, de ez nem olyan nép, akik békében meg tudnak élni egymás mellett. Ubbe is hasonló álmokat dédelget, és Ragnar álmát váltaná valóra egy gazdag földön töltött élettel.
Az utolsó fejezethez érkezett a vikingek története, amit kifejezetten érdekes módon vetítettek le, gondolom, a COVID miatt is. Az első 10 rész hagyományosan, a záró 10-es egyben került ki. Elvarrtak mindent, más kérdés, hogyan. De az univerzumtól nem búcsúzunk végleg, hiszen már lehet tudni, hogy lesz Vikings spin-off.
De egyelőre maradjunk ennél az évadnál. A történelmi hűség, a vikingek kultúrájának bemutatása végleg elveszett, ez már egy háborús, hatalmi harcos sorozat, amelyben random dobtak be történelmi elemeket is. Talán a végére Ubbe szálával egy egyszerűbb kaland vonalat is igyekeztek feleleveníti, de számomra az okozta a legrosszabb perceket. Ha még pár jelenetben azt kellett volna néznem, hogy szomjasan sodródnak a nyílt vízen, és azon merengenek, mikor halnak szomjan vagy éhen… Az kifejezetten unalmas volt.
(Arról nem is beszélve, hogy lenyomták újra kicsiben a Flokival történteket egy újabb szigeten, csakhogy lássuk, minden ismétli magát és a vikingek nem tanulnak a korábbi hibákból, bár talán az indiánokkal ezen a végén hangoltak kissé.)
A rusz történet kötött le legjobban, bár Ivar a végére nagyon kifulladt. A testvérek szociopata tagja korábban zseniális volt, de a végére már vele sem tudtak mit kezdeni. Annyira semmi értelme nem volt, ahogy dobálgatták és a végére visszaküldték Angliába, ahol olyan értelmetlen sorsot adtak neki. A rusz udvarban legalább ármánykodhatott még, és abban volt lehetőség, ahogy egymásnak ugrottak ott is a rokonok, és Ivar szép lassan a saját jelöltjének juttatta a hatalmat.
Sokan haltak meg, és változó, ki mennyire méltó véget kapott. Lagertha már nagyon régen érdektelen karakter volt számomra. Nála is azt éreztem, amit Ubbe és Floki kapcsán is: a természetük, a népük természete ellen igyekeznek tenni, és ezzel katasztrófába rohannak. Mindig erőszak a vége a dolgoknak, és ez lehangoló. Björn viszont hősies finálét kapott, ha az egyik felem azért morgott is magában. Látta valaki a régi El Cid filmet, vagy ismeri a spanyol lovagi legendát? Hát, nagyon nem voltam attól boldog, hogy Björn viking verzióban nyomta az El Cidet. Igaz, az özvegyei és Kattegat végjátéka még rosszabb volt Erikkel.
Amit még mindig tud ez a sorozat, az a látványossága. Kemény harcok vannak benne, és itt már nagyon szappanos családi és hatalmi ármánykodások. Amíg néztem, elment, már érdekelt az is, kinek milyen vég jut, de visszanézve nem ez a sorozat legjobb évada. Még csak a jobbak közé se sorolnám be.
Az én listámon már sokkal jobbnak számít a The last kingdom – ennek jó, hogy vége lett.
Vikings – 5/3 egyszerre volt túl sok és túl kevés is. A szappan faktor nőtt, a karakterek egyszerűbbek.
VIKINGS Final Season – Official Trailer | Amazon Prime Video - YouTube