Mielőtt bármibe is belekezdünk, leszögezem, nekem nagyon tetszett ez a mese. Jókat vigyorogtam rajta, és a zsánere is passzol az ízlésemhez. Nem is emlékszem, mikor sikerült valamit ennyire eltalálnia a DreamWorks stábnak.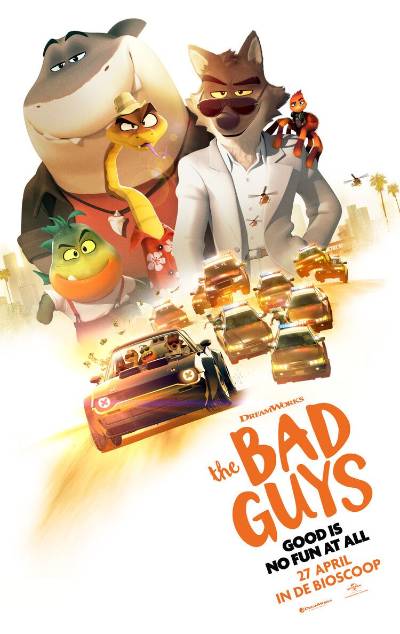 Viszont: azzal bajban vagyok, hogy mégis melyik korosztály a célközönség. Tudom, hogy gyerekeknek készült képregény az alapja. Megvan az is, hogy a főszereplők állatok. Mégsem érzem igazán gyerektörténetnek, annál komolyabban vették.
Rengeteg benne az utalás, és nem csak olyan filmekre, mint a Kutyaszorítóban, amit egy gyerek biztosan nem ismer. De azon is meg lennék lepődve, ha a kicsit sejtenék, mit jelenthet megclooneyzni valakit. Ok, a környezetből azért rájönnének, de hogy miért ez a neve, azt szerintem nem tudnák. Ez mind olyasmi, amit a felnőttek fognak díjazni.
A rablásokat is korrekten összerakták, kivitelben és az egésznek a logikája is stimmel. Ahogy mindenkinek megvan a maga feladata, amilyen váratlan nehézségek adódnak. Meg kellene néznem egy másik mesében is, hogy milyen rablásokat mutatnak a gyerekeknek, mert itt megint inkább azt érzem, inkább a felnőttek vannak becélozva.
Két olyan dolog van benne, amin viszont nagyon érezni, hogy ez nem is igazán felnőttmese. Az egyik, az egész mesének az üzenete. Az előítéletek megcáfolása: lehet valaki attól jó is, hogy egy olyan csoport tagja, amit hajlamosak vagyunk gonosznak bélyegezni. Ahogy a gonosz is könnyen az aranyos álcájában settenkedhet. Ha még jobban lesarkítom, annak a tételnek a cáfolata is benne van, hogy a széphez automatikusan társítjuk a jó jelzőt is. De van egy ennél nagyobb klisé is: jónak lenni boldoggá tesz. Még a farkasnál rendben is lenne a 'jó kutya' effektus, ő kutyaféle. De pl. amikor a kígyó kezdi el csóválni a farkát a jó cselekedettől boldogan, az már inkább a fura kategória. Vagy a cápa az uszonyát. És lehetek gonosz, de tényleg jó érzés jónak lenni? Ebben a történetben szépen alá van húzva, itt ok, de tovább gondolva szerintem rossznak is ugyanilyen kielégítő lehet lenni, ha valakiben nincs vagy csak alig empátia. De elkalandoztam.
A másik gyerekmese eleme a humora. Nem végig, vannak felnőtteknek szánt utalások és poénok, de egy jelentős része a kisebbeknek szól. Némelyik olyan otromba módon, hogy mai fejjel bosszant is. Ami legjobban idegesített, az Mr. Cápa, mint az álcák mestere. Pedig nem is hasonlít senkire, mindig csak magára. Attól, hogy feltesz egy műbajusz, még nem néz ki egy másik ember apjának. De azt is lehetne említeni, amikor Mona Lisának álcázza magát. Köze nincs egymáshoz a kettőnek. Mindenki vak? Attól pláne szomorú, hogy Marmalade (a tengerimalac professzor) is vet be álcát, az viszont M:I szinten tökéletes. Akkor mégis, miért dől be mindenki Cápának? Még Farkas is sokkal hitelesebb volt, amikor kutyának álcázta magát.
Jól sikerült a grafika. Szép ez a mese, és olyan szinten aranyosak a figurák, hogy már plüssként is látom őket lelki szemeim előtt. A Farkas meg a cica, akit lementett a fáról, meg extra aranyosak.
Erről jut eszembe: azért az nem semmi, milyen világot összehoztak. Vannak emberek, vannak emberi állatok, mint a főszereplők. És vannak állat – állatok is, mint az a bizonyos cica? Nincs meg a rendszer és nem is szabad akarni érteni, mert még az alapok sincsenek meg a világépítésből.
Hogy ismételjem magam: kritizálgatom, de én kifejezetten szerettem ezt a mesét. Humoros, menő, rablós – még alapanyag is van bőven, jöhet a folytatás is!