Turnézó, saját utat járós, komikus.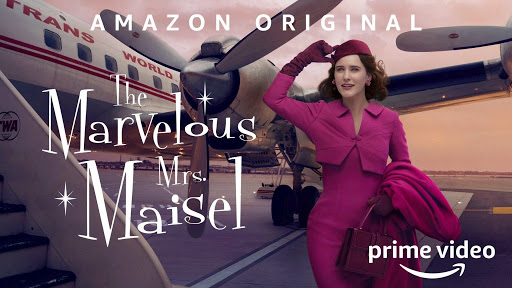 Miriam belevág a nagy kalandba: levélben szakít a vőlegényével, és turnézni indul a népszerű énekes, Shy Baldwin nyitószámaként. A kezdeti nehézségek után belelendül, és a saját csillaga is egyre fényesebben ragyog, miközben a stábbal is összebarátkozik. A Las Vegasban tartott számok alatt a család és Joel is meglátogatja, aminek az eredménye egy részeg este, újabb házasság és újabb válás. Pedig Joel nagyon igyekszik elszakadni a volt feleségétől: saját éjszakai bárt nyit és az alattuk működő kínai szerencsejáték barlang egyik bennfentesével járni kezd. Közben Midge szüleinek el kell hagyniuk a lakásukat, és Rose már a családjától sem akar pénzt kérni, ha annak az ára, hogy el kell viselnie a leereszkedő modorukat. Joel szüleihez költöznek be, de hamar kikészülnek a nagyhangú, minden lében kanál rokonok mellett és keresni kezdik a saját útjukat.
Harmadik alkalommal tér vissza Miriam – Midge – Maisel, hogy megnevettessen minden nézőt. A sikerrecept változatlan, bár a cselekmény változott annyit, hogy így is élvezetes a végeredmény, drámai változások nélkül. Ha egy mondatban akarnám megragadni, mi az évad témája: Midge és a turné.
Továbbra is egy humoros, friss és gyors sorozatról van szó, amiben nagyon fontos a beszéd és a párbeszédek. Több téren is. Midge eleve a beszédből él, és érdekes is, milyen témákat visz fel a színpadra. Ő elsősorban a saját életéből merít, a szüleiről, gyerekéről, az életében levő emberekről beszél. Ritka, ha ebbe valami komolyabb mondandót is beletesz. Amit a zsidó létről vagy az előítéletekről belesző, azok elég súlytalanok. Jó szövegei vannak, szeretem hallgatni, de ő elsősorban szórakoztat.
Azért ötlött ez fel bennem, mert megint színre lépett Lenny Bruce, aki viszont súlyos mondandót csomagol be humoros formába, és a tőle látott műsorok ezért többek is tudnak lenni, mint sima szórakoztatás, amit Midge képvisel. Jó mindkettő, csak másként.
De ez a sorozat nem csak a színpad körül forog, ha az fontos is benne. Családi és társadalmi változások vannak benne. Példákon keresztül mutatja, ahogy a kor női kezdik megtalálni a hangjukat, és többet akarnak, mint feleségnek lenni és anyának. Midge példáját követi az anyja, aki a pénzért sem hajlandó elviselni a férfi rokonai megalázó beszólásait. Majd az évad végére a legjobb barátnő, a különben tipikus zsidó feleség Imogene is szakmát szerez.
Érezni, hogy Ab útkereséséből is igyekeztek valami tanulságot kihozni, ahogy változtatni akar a dolgokon, de nem vagyok benne biztos, hogy ez átjött, vagy volt ennek a szálnak értelme.
Susie kapcsán is volt egy izgalmasabb vonal. Ahogy egy tahó karakterrel sikeres komika, Sophie Lennon komoly színésznővé akar válni. Susie kíséri az úton, minden rendelkezésre áll a sikerhez, csak éppen Sophie nem bírja a nyomást. Már érdekel is, mi lesz azzal a nővel, mert van abban dráma, ahogy a saját álmát képtelen megvalósítani a félelmei miatt.
Rachel Brosnahan továbbra is sziporkázik, mint Midge Maisel. Ahogy annak idején Lauren Graham is felvette a gyors beszédű, jó beszólásokkal operáló, szerethető, de gyakran zűrös karakterét, Brosnahan is hozza Midge arcait. A komikát, az öntudatra ébredő nőt, mindezt azzal a sikkel, amit a vagyonos származás nyújt a karakterének. De idén Leroy McClain, akit még ki kell emelni. Ahogy váltani tudott Shy, a szimpatikus sztár és Shy, a sok titkot őrző, szenvedő férfi között… viszonylag kevés jelenléttel is élővé tette a karakterét, és szerettem a Midge-dzsel közös jeleneteit. Sajnálni is fogom, hogy ő a turnés évadra tűnik csak fel.
Külcsínben is csillagos a sorozat. Midge ruhái még mindig elképesztőek, az évad végén az a rózsaszín darab különösen tetszett, de minden részben imádtam a jelmezesek munkáit.
Még mindig az egyik legjobb show a csatornán, amit érdemes nézni. 4. évad?
The Marvelous Mrs. Maisel - 5/4,5 aranyos, tartalmas, nagyon jó párbeszédekkel és helyzetekkel. Keserédesen is tarol.