Világmentő, családi harcot rendező, harcos.
Heron élete nehéz: az anyjával ketten vannak, és a falusiak megvetik, bántják őket, amiért az asszonynak nincsen férje, átkozottnak mondják őket. Csak egy öregember bánik velük kedvesen. A fiú mérge nő, és az igazság sem segít rajta: félistennek született, az apja Zeusz, az istenek királya. Pedig Zeusz is tudja, hogy a fiára nagy szüksége lesz a világnak. Az óriások gonoszsága visszatért a földre, és embereket fertőz, akik démonokként pusztítanak és mindenkit fenyegetnek. A vezetőjük, Seraphim pedig több szállal kötődik Heronhoz, melyet még egyik fiatalember sem tud, de döntő sorsa lesz az eseményekre. Miközben Heron kénytelen hőssé válni, a féltékeny Héra a maga tervén dolgozik, és örök leckét akar adni a férjének arról, milyen következményei vannak a házasságtöréseinek.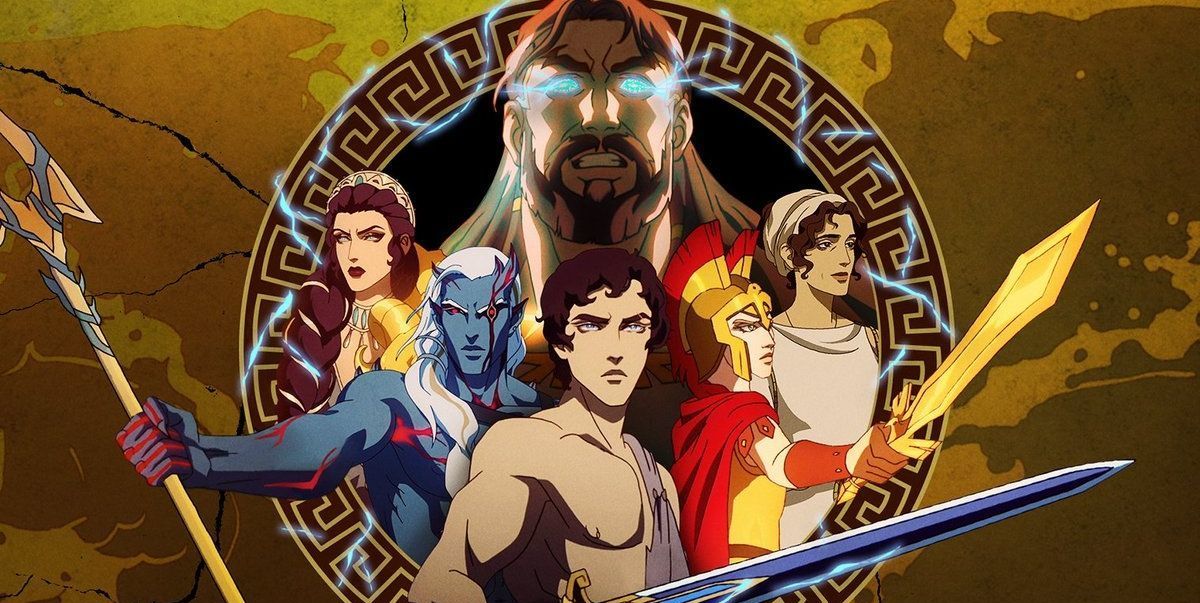 Még a Netflixen is lehet látni, hogy milyen hatásai vannak a világhelyzetnek. Vannak sorozatok, amiket előre hoznak, de ez azzal jár, hogy nem tudják a teljes évadot leadni, feleznek. (A Lupin tipikusan ilyen volt.) Másrészt, jöhetnek az animációk, hiszen azokhoz nem kell úgy forgatni, mint egy élőszereplős sorozathoz.
A Blood of Zeus egyike azon animációknak, amelyek be is futottak ebben az időszakban. Igaz, a magyar nézettségi adatokon nem tűnt ki, de különben vannak olyan nézőszámai, hogy már most azt olvastam, hogy simán lehet belőle 4-5 évad is még.
A világában bőven van annyi történet. A görög mitológiát veszi alapul, de nagyon szabadon kezeli. Új történetek, csak használva az isteneket és az ókori környezetet. Az első évadban az óriások és a belőlük sarjadó démoni rend ellen kell küzdeni. Erről jut eszembe – csak nekem jutottak eszembe a fertőzött emberekről, elsősorban Seraphimról tündérek? Pontosabban, sötét elfek. Ettől függetlenül jól néztek ki, volt történetük, de azért beugrott más Netflix animációs sorozat a láttán.
A történetben még egy görög tragédia építőkockáit is felfedezni vélem. Ahogy Heron és Seraphim ugyanannak a történetnek a két oldala, és ahogy ez a történet összeér… Benne volt annak az esszenciája, ahogy Oidipusz már királyként keresi a királyságát sújtó átok eredőjét, aztán, amit talál, romba dönti a családja és a maga életét.
Ez a része tetszett, ha közben azért a mitológia szabadon kezelése zavart is. Vannak olyan elemei, amelyek jobban eltérnek a szokottnál. Az óriások eredettörténete és háborúja ilyen, ami jobban zavart, mint a húsuktól megfertőződő, démoni emberek. Talán úgy tudnám megfogalmazni, hogy a teljesen új elemeket könnyen vettem, amikor azonban olyasmit használtak, ami eredetiben és volt, de nagyon máshogy nyúltak hozzá, az nem tetszett.
Pedig tudják a mitológiához passzítani az új szálakat – Heron eredettörténete nagyon passzol Zeusz jelleméhez. Ahogy Héra féltékenysége és háborúi sem újdonságok, Héraklész is szívott miatta eleget többek között.
Jól elkaptak egy furcsa családot, ahol aztán vannak indulatok a karakterek között. Ahogy Zeusz házasságon kívül született, isteni gyerekeinek beszólnak – ahogy pl. Héra simán lefattyúzza Apollónéket. Kész.
A sorozat kinézete, a grafika se rossz. Van olyan meséjük, aminek örültem volna, ha minimum ilyen grafikája lett volna. Az akciók is dinamikusak, látványosak.
Ettől függetlenül szerintem középmezőnyre lőtték be: a szinkronszínészeken látni. Egy Castlevaniához képest kifejezetten kis neveket szerződtettek, ha korábbi sorozatokból vannak is ismerős hangok benne.
Kár volt felemlegetnem azt a sorozat, annak a negyedik évadát sokkal jobban várom. De a Blood of Zeus 2. évadának is jut majd hely a nézett sorozataim között.
Blood of Zeus – 5/4,5 korrekt grafika, a történetet is értelmesen összerakták fordulatokkal, akciójelenetekkel.
https://www.youtube.com/watch?v=9JAQh544RHE