Kórházas, kapcsolatos, visszaéléses.
Dr. Lane Hunter lebukott, az összegyűjtött bizonyítékok ellene szólnak. Még próbál ugyan ügyeskedni, de az igazság kiderült, ezt már nem lehet megúszni. A Chastain vele elvesztette az aranytojást tojó tyúkot: állandóan új bevételek után kell nézni, Lane kieső bevételei és a rossz PR miatt. Bell így egy orvosi segédeszközöket gyártó céghez kezd dörgölőzni, a QuoVadishoz. Mivel Devon beleszeret az egyik ügynökükbe, aki rejtélyesen eltűnik, a csapat nyomozni kezd a cég után. Szabványokat szegnek, életeket veszélyeztetnek, valakinek le kell őket állítani. Conrad ezt a harcot is felvállalja, de most segítsége is van. Az apja, akivel végre elkezdik rendezni a kapcsolatukat. A kórházban közben egyre jönnek az új esetek, és a dolgozók magánélete is tartogat csavarokat.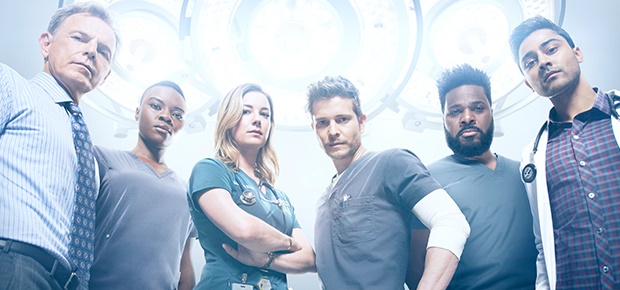 Idén kórházas sorozatból kettő volt, ami jobban lekötött a többinél. Mindkettőben megvan az a vonás, hogy a rendszer mögé akarnak nézni, kisebb-nagyobb mértékben felfednek kulisszatitkokat és visszaéléseket. A New Amsterdam az egyik, a The Resident a másik.
Ez a sorozat a 2. évaddal tért vissza, és a szerkezete megőrizte azt, amit tavaly megszerettem. Minden részben van legalább egy napi eset, de ez inkább 2-3. Van egy beteg, akit Conrad vagy Devon kezelnek, és szokott lenni egy sebészeti megoldást igénylő beteg is, akinek a műtőben küzdenek az életéért. Akadnak kifejezetten izgalmas sztorik: ami lehet az eset miatt, de egy-egy személyes kapcsolat miatt is.
Folyamatos a szappan faktor is. A dolgozókat megismerjük, a szerelemi és magánéletük is része a cselekménynek. Alapvetően Nic és Conrad vannak a középpontban, de szerencsére nem mennek el nyálas irányba. Éppen elég más esemény van, hogy ne állandóan szerelmi drámákkal foglalkozzanak, ha pár részenként ilyen téren is hoznak egy-egy konfliktust. Conrad most békül az apjával, Nic a testvérét igyekszik menteni, majd az ő apja is képbe kerül. A jóképű új dokiról nem is beszélve, aki szívesen lépne Nic életében Conrad helyére…
De tetszett az is, hogy a mellékszereplőket is folyamatosan építik, és adják nekik a történeteket. Idén eljutottunk oda, hogy Halálkéz Bell egészen szerethető figura lett. Jót tett neki az ortopéd sebész Kitt közelsége. Devon, Mina is megkapják a maguk drámáját.
A sorozatnak van humora, és erőteljes karakterei! A fentieken túl nagy kedvencem a Ragadozómadár, AJ Austin – amilyen beszólásokat kap folyamatosan, a sorozat egyik motora a zseniális, de öntelt sebész.
Visszatérve a sorozat jellegzetességeihez, már kiemeltem a szappan faktort szerethető szereplőkkel, humoros pillanatokkal és a mindennapi eseteket. De ami új benne, és tényleg etikai kérdéseket vet fel, azok az egészségügyi piszkos csalások és alkuk. Ebben az évadban a gyógyászati cégek szemétségeire hívták fel a figyelmet. Ahogy a pénz mozgat mindent, és olyan emberek játszanak életekkel, akiknek csak a haszon számít. Iszonyatos belegondolni, mennyire ki vagyunk szolgáltatva nekik a való világban is. Az átlagember semmit nem ért az ilyen orvosi eszközökhöz, honnan tudnánk, selejtes-e a termék, amit belénk ültetnek?
A casting még mindig remek, lassan VanCamp puszta jelenléte se akaszt ki.
Az egyik kedvencem volt idén, jövőre nézem tovább!
The Resident - 5/4,5 dob fel érdekes egészségügyi kérdéseket, emlékezetesek a szereplők, jó szappan.